Brief History
Interserve is an international evangelical mission organisation with about 800 partners in a wide range of ministries in Asia and the Arab World. We have National offices around the world including Malaysia.
Interserve was started in 1852 by two women who saw a need to share God's love to the oppressed women and children of India. Today, the organization has grown worldwide.
Recognising the need to recruit Malaysians to serve overseas, Interserve International began looking for a local board to represent them in Malaysia. They identified Malaysian CARE as being the most appropriate body to represent Interserve in Malaysia since they were already sending workers overseas for long-term missions. By 1986, the first partner was sent by Malaysian CARE through Interserve. All the workers who had been sent overseas came under the responsibility of the Overseas Department of Malaysian CARE.
In 1991, Malaysian CARE decided to set up a separate legal entity to take over the operations of the Overseas Department of Malaysian CARE.
It changed its name to Interserve Fellowship Berhad in 2005 after being made a council by Interserve International.
Interserve Malaysia Today
Our Malaysian Partners come from very diverse backgrounds. They represent different denominations and professions and are involved in church planting, theological education, training of indigenous pastors and workers, youth and children's ministries, community development work, relief work, orphanages, hospital work, and administration. Our partners include single men and women, couples with children and even those above the age of sixty. Though most are supported by churches and individual Christians, a few partners are "tentmakers" and are self-supporting.
As for our locally-based partners, they mainly provide administrative support for our international office or are involved in member care, mission mobilisation or creative ministries.
Core Values
Inclusivity: We embrace a variety of Biblical-based traditions. We welcome a rich diversity of cultures. Women and men share ministry and leadership roles.
Integrity: We strive for excellence and integrity in every aspect of our lives. We aim for transparency in leadership and communications.
Humility: We respect and accept each other and those who we are called to serve. We do not seek recognition for ourselves or the name of Interserve.
Relationship: We are a family, bound together by relationships of mutual accountability. As a Fellowship, we are committed to pray, care for and respect one another. We are committed to excellent standards of support, pastoral care, and personal development.
Service: Our call is to enable others to experience the Kingdom of God and live as Jesus' disciples. We do not seek our kingdom or our disciples.
Membership
Interserve Malaysia is a member of NECF Malaysia and an associate member of the Council of Churches of Malaysia.
Our Motto
We are often known as the "people for the hard places" or the "Hardplace People".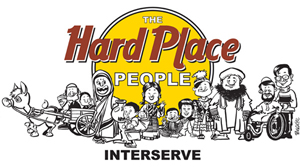 Organisational Brief
Registered Name
Interserve Fellowship Berhad (252341-U)
Board Members
Philip Chang (Chairman)
Vicky Ng (Vice-Chairperson)
Lee Kok Joo
Susan Pan Majimbun
Rev. Dr. Chuah Chia Choon
Medical Adviser
Dr Jenny Cheah
Full-time staff
Janelle Khoo
Personnel Director
pdatism@gmail.com
Nai-Khee
Finance Manager
financeism@gmail.com
Grace Ho
Director of Chinese Mobiliser
in2serve.chinese@gmail.com
Affiliation Structure
Interserve Malaysia is an indigenous Christian organisation working in partnership with local churches and Interserve International to enable Malaysian Christians to serve overseas. Interserve Malaysia is a signatory of a "Joint Ministry Agreement" which spells out the terms of this Partnership with Interserve International
Vision Statement
Lives and communities transformed through encounter with Jesus Christ.
Mission Statement
Serving the least reached peoples of Asia and the Arab World.
Goal
Partnering with Malaysian churches to enable Malaysian Christians to serve cross-culturally in Asia and the Arab World.
Excerpts from Basis of Faith
"We believe that there is one God. . . Each person needs to be regenerated by the Holy Spirit in order to receive eternal life. We affirm the Bible . . . is the uniquely inspired Word of God. We confess Jesus Christ to be the only Saviour and Lord, and we affirm His deity, virgin birth, incarnation, substitutionary death, bodily resurrection, ascension and personal return."